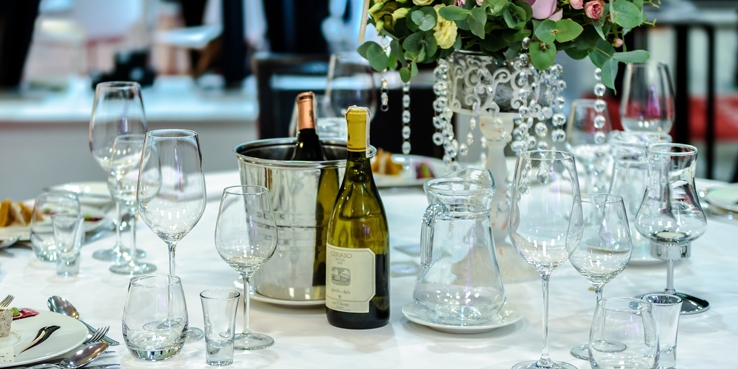 Do you wish to complete your meal with a tasteful wine? You should know how and in what it should be served.
Do you wish to complete your meal with a tasteful wine? You should know how and in what it should be served. What is more, if you serve it properly, you will amaze your family and guests. If you don't know all the ins and outs of wine serving, red on!
Practical hints for serving wine
Wine should be served in large glasses, so it can be as aromatic as possible. Obviously, the glass has to be clean and dry. Clear it immediately after washing with a soft cloth.
Wine you are serving cannot be to warm. White and rose wines should be chilled, so you should put them into the fridge beforehand. Red wine tastes the best in room temperature, but it can be chilled a little bit 20-30 minutes before serving.
Remember the order of wine serving. White goes first, then lighter red and then heavier red and dessert wine. Start the tasting with dry wines, finish with sweet ones.
Choose the wine in accordance with the meal. Lighter dishes, i.e. salads or frutti di mare are complemented with light wines, while meats, creams, sauces or spicier meals go well together with reds. Sweet wines are ideal for desserts.
Red wine should be poured from a carafe. When you pour it from a bottle to a glass receptacle, you will get rid of any sediment and oxygenate it, so it will taste better.
Alcohol should not be ingested right away. After pouring it into the glasses wait a couple of minutes, smell the bouquet and then taste it to make the experience more exquisite.
When you open the wine, put the corkscrew in the middle of a cork and screw it up to the half or 3/4ths of the cork. Do not make a hole all the way, because cork's fragments can get into the wine and ruin its taste.
Do not water down the wine or serve it with ice cubes, because you destroy the unique taste and its aroma.
Before you serve the wine to your guests smell it and taste it yourself to check if it did not get spoilt. If you smell something strange, like a nail polish, throw it right away.
When you pour the wine, do not touch the glasses with the neck of a bottle. Also, hold the glass by its stem, not the bowl, so you won't warm up the wine.
Those are all the basic rules, we hope they will be helpful next time. If you remember all of the above points, you will ensure that your wine taste great!
Last Update 2016-11-28 13:29:46
Read 20065 Times